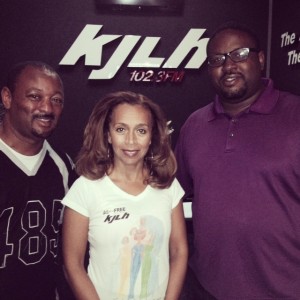 Najee Ali (left) is an award-winning nationally celebrated civil rights activist and community organizer who is the Founder and Executive Director of Project Islamic H.O.P.E. (Helping Oppressed People Everywhere), which puts faith into action to serve all of humanity.
Ali's career began in the 1988 as a volunteer for presidential candidate Reverend Jesse Jackson, which was the doorway for his involvement into political and social activism. He has worked for or with nationally celebrated figures that include President Barack Obama, Rev Al Sharpton, Martin Luther King III, Dick Gregory, John Hope Bryant, Michael Jackson, Congressmember Karen Bass and Imam W.D. Mohammed.
A native of Gary, Indiana, Najee migrated to South Central Los Angeles where later his fearless activism helped spearhead Sherrice's Law – the first law named after a slain African-American child in the United States. From leading the charge for police reform to negotiating gang truces, Ali continues to evolve as the people's champion and confronts injustice wherever it may be.
Social Media: Facebook.com/NajeeLAactivist Twitter.com/NajeeAli
Rev. K.W. Tulloss (Right) is an activist and Pastor. He is currently the Western Regional Director of the National Action Network.
Website: NationalActionNetwork.net
Social Media: www.facebook.com/NationalactionnetworkLA  Twitter.com/KWTulloss
Rev. William D. Smart Jr. (not pictured) is currently Co-Pastor of the Christ Liberation Ministries in Los Angeles. He is also President and CEO of Southern Christian Leadership Conference – Los Angeles.
He was President of the NAACP in Jackson, a Board Member of the SCLC in Birmingham, President of the Forest City Ministerial Alliance and State Director of Economic Development for the NAACP in Tennessee. He served as Co-Chair of the Black-Brown Unity Commission, a Board Member of Community Call to Action in Los Angeles, and currently serves as the Chairman of the Board for Greater Los Angeles Southern Christian Leadership Conference and a national advisory board member of the American Values Network.
Social Media: www.facebook.com/wdsmart  twitter.com/pastorsmart
Event:
Rally Against Police Brutality: In honor of Marline Pinnock who was brutally beaten by CHP Officer
When: July 12 at 12pm
Where: Leimert Park