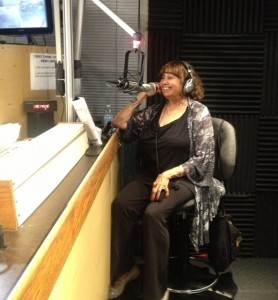 Dee Dee McNeil is an educator, singer, songwriter, poet, journalist, producer and playwright.She has performed in over two dozen countries worldwide, entertaining in a number of five-star hotels like The Westin, The Radisson, The Sheraton, The Four Seasons, The Hyatt, The Crowne Plaza and The Ritz Carlton.  She sang for the King and Queen of Bangkok (by special request) at the Oriental Hotel in Thailand. As a contract songwriter for Motown Records in her native Detroit, Michigan, several world renowned artists have recorded her music including Diana Ross & the Supremes, Gladys Knight & the Pips, David Ruffin, Edwin Star, The Four Tops, Nancy Wilson, Rita Marley, Kiki Dee, Jonah Jones, Side Effect, Rapper 'Styles', L.L. Cool J and the historic Rap group, The Watts Prophets, of which Ms. McNeil was a member.
McNeil was one of the first women to Rap in the late '60s and early 70's,speaking up for women's rights. One of her raps about respect for women was used as the televised theme song during New Zealand's Miss Universe Contest in 1983. However, her passion and artistry has always been closely linked to Jazz. In 2013, her songs were recorded and produced on Artist Peggy Duquesnel by Jeff Lorber and Jimmy Haslip and by artist, Robert McCarther in Detroit. Currently residing in Southern California, McNeil stays busy performing in local Jazz venues while also vocal coaching part time. From 2008  – 2009 she was Director of Artist Development at (CCM) California College of Music in Pasadena. She vocal coached at both PIMA (Pasadena International Music Academy) and CCM for six years. For the past 3 years she has been teaching part time at MPA (Music Performance Academy) in Alhambra, CA for (13) years she hosted a program entitled "Jazz 'N You" that taught preschoolers and their families the three elements of jazz in libraries all across Los Angeles County.  She wrote and produced two musical stage plays in Detroit and also produces well-attended concerts in the Southern California area.  Her plays are based on historic figures and their music contributions. In 2001, she won the BET (Black Entertainment Television Network) "Jazz Discovery Competition" and appeared in concert on BET's internationally syndicated television program.
McNeil's articles and Cd reviews have appeared in Cadence Magazine, All About Jazz Newspaper and she has a blog on www.lajazz.com for the past 5 years.  In 2009 her book "Haiku In My Neighborhood" was published, featuring the photography of Roland Charles.  She is a published poet and her poems have appeared in a number of anthologies. She sometimes incorporates poetry into her musical performances, as she did in 2010 during a performance at the University of Sarjah in the United Arab Emirates.  Her cd discography includes Rappin' Black in a White World as part of the Watts Prophets Group – Ala Records; Where Can Our Leaders Be? Distributed by USA Records; "Live at Spaghettini"; and "Live at the Discovery Theater with the Bill Dowdy Jazz Trio". Most recently "Dee Dee McNeil Live in Bangkok" with the Bamboo Bar Quartet soon to be released and she is currently in the recording studio working on an all original song jazz album.
In 2010, Ms. McNeil provided a free literary enrichment program to 30 minority children (ages 5-11) at Rogers Park in Inglewood, as part of the City of Inglewood After-school Program.  It culminated in those students exhibiting their haiku poetry and photographs in an art exhibit at the Community Center.
In March, 2011 at a Living Legend ceremony, she was honored by the City of Los Angeles for her contributions to music, to jazz and to youth, receiving proclamations from the City of Los Angeles 8th District, from the California State Assembly and from the United States Senate.  See www.deedeemac.com
In May, 2011, she taught the sixth-grade students of Horace Mann Junior High School the Premise of Haiku, based on her self-penned poetry book "Haiku In My neighborhood".  Consequently, the students wrote and displayed their own haiku poems at their cultural Arts Fair.
In 2012 she produced a Black History concert for 2000 students at San Pedro High School. Using a quartet of jazz musicians, she shared historic information about jazz under the banner of Jazz, the music of freedom.  Consequently she was honored by County of Los Angeles Proclamation – 15th District.
In 2012 she was featured vocalist on the Bobby Matos nationally distributed  Cd, "Gratitude".
In 2013 she was honored by the Top Ladies of Distinction for her outstanding community service, not only using music to bridge the gap between ages and cultures, but also using music to raise food for the homeless every year for nearly a decade.
In 2014 one of her short stories was released by Chicken Soup for the Soul; 101 stories of Hope, Healing and Hard Work and she is in the studio, completing her latest jazz CD.
Website: www.deedeemac.co
Email: ddmcneil@aol.com
Phone:  248-262-6877