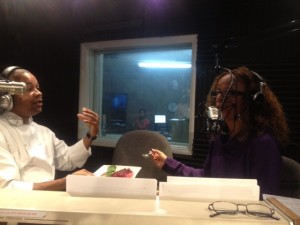 Celebrity Chef Brian Hill was in the studio today discussing his No Budget Gourmet web series that provides viewers with real recipes at low costs that result in delicious meals!
Born and raised in Washington, DC, celebrity chef, Brian Hill, began his
career as a chef by catering parties for friends as a way to make extra
money. Word quickly spread of his innovative and flavorful dishes, and
in little time celebrities were knocking on his door.
Chef Brian was featured in an article in the June 2012 issue of Ebony
magazine and is a celebrity culinary judge on multiple episodes of the
new cooking competition television show, My Momma Throws Down,
on TV One in May and June of 2012.   Chef Brian was one of the stars of
The Private Chefs of Beverly Hills on The Food Network, has appeared
as a culinary expert on Spike's Bar Rescue and was also a contestant
on the first season of Bravo's hit TV series, Top Chef.  Chef Brian has
been featured live on the red carpet for E! Entertainment's Golden
Globe Awards and Bravo's The Real Housewives of Orange County, and
has appeared on a number of local news programs including multiple
appearances on the KTLA Morning Show in Los Angeles.    He has also cooked
for other celebrities such as Sean "P. Diddy" Combs, actor Mehki Phifer,
and World Heavyweight Boxing Champion Lennox Lewis, who hired
Brian for his private post-championship fight dinner.
Chef Brian teaches America how to eat well and spend less
on meals that will impress on The No-Budget Gourmet which debuts
as part of Alright TV's slate of upcoming family oriented content
developed for the channel in collaboration with YouTube.
Learn how to prepare 1st class meals for a low cost by watching an episode No Budget Gourmet here
Stay connected with Chef Brian through social media:
Instagram – Iamchefbrian.com
Twitter – @IAmChefBrian
Instagram – @IAmChefBrian
Facebook – Chef Brian