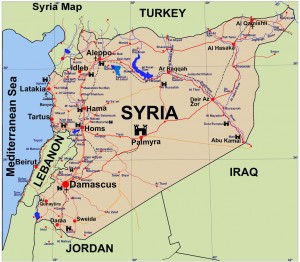 The US and its allies are considering military action against sites in Syria. But what do countries in the region and beyond think about any possible action?
Outside the region
US
Following a cautious reaction to the initial reports of a chemical weapons attack, American rhetoric has hardened. Secretary of State John Kerry said the use of chemical weapons by the Syrian government was "undeniable" and a "moral obscenity".
Washington has recently bolstered its naval presence in the eastern Mediterranean, prompting speculation that preparation for an attack is under way. Analysts believe the most likely US action would be sea-launched cruise missiles targeting Syrian military installations. However, support for military action among the US public is not clear cut, with opinion polls suggesting about half of Americans oppose even a limited strike.
UK
A government motion in support of military action in Syria has been rejected by MPs in Parliament, forcing the UK to rule itself out of any joint intervention.
This was seen as a blow for the government of Prime Minister David Cameron. However, the prime minister says he supports the idea – even though he respects the vote.
France
French President Francois Hollande has said France is prepared to go ahead with military intervention, even though the UK will play no part in any action.
"France wants firm and proportionate action against the Damascus regime," he told a French newspaper, and indicated it could come within the week.
France has been amongst the most hawkish Western countries with regard to Syria, being the first Western power to recognise the main opposition coalition as the Syrian people's legitimate representative. In May, France, along with the UK, successfully lobbied for the EU's arms embargo to be lifted so as to allow further supplies to the rebels.
Russia
Russia is one of Mr Assad's most important international backers and has stressed the need for a political solution to the crisis.
It has sharply criticised any possibility of Western strikes on Syria, saying action taken outside the UN Security Council threatened "catastrophic consequences for other countries of the Middle East and Northern Africa".
China
China has joined Russia in blocking resolutions critical of Syria at the UN Security Council. It has also criticised the prospect of strikes against Syria.
The official Chinese news agency, Xinhua, said Western powers were rushing to conclusions about who might have used chemical weapons in Syria before UN inspectors had completed their investigation.
Germany
Berlin has ruled itself out of participation in any military action. Foreign Minister Guido Westerwelle told a German newspaper that "such participation has not been sought nor is it being considered by us".
Germany has said in the past that proof of the use of chemical weapons by the government of Bashar al-Assad would demand "consequences" but has not set out what those consequences should be.
Syria's neighbours
Turkey
The Turkish government has been one of the most vocal critics of Syrian President Bashar al-Assad since early on in the uprising. Turkish Foreign Minister Ahmet Davutoglu told Turkey's Milliyet newspaper that the country was ready to join an international coalition for action against Syria even in the absence of agreement at the UN Security Council.
Saudi Arabia and the Gulf
The monarchies of the Gulf are reported to be key funders of the rebel forces and suppliers to them of arms. Saudi Arabia has been a rival of the Syrian government for years and has been particularly active in pushing for action against Mr Assad. At a meeting of the Arab League on 1 September, Saudi Foreign Minister Saud al-Faisal called for "all legal means possible" to be used to stop the bloodshed in Syria.
Israel
Despite initially avoiding becoming involved in the conflict, Israel has carried out three strikes on targets in Syria this year, reportedly to prevent weapons shipments reaching the Lebanese Hezbollah militia, which has a close alliance with the Syrian government. Shelling and gunfire from Syria has also hit the Israeli-occupied Golan Heights, drawing return Israeli fire.
More recently, Israeli officials have condemned the alleged use of chemical weapons by Syrian forces and hinted at support for military action. "Our finger must always be on the pulse. Ours is a responsible finger and if necessary, it will also be on the trigger," Israeli Prime Minister Benjamin Netanyahu said.
However, Israeli officials will be aware that any Western action against Syria risks a repeat of events in the first Gulf War in 1991, when Iraq attacked Tel Aviv with Scud missiles in an attempt to draw Israel into the conflict and prompt the withdrawal of Arab countries from the war. Reports say demand for gas masks in Israel has increased in response to speculation over military action.
Lebanon
There is deep division in the country between supporters and opponents of President Assad.
Lebanese Foreign Minister Adnan Mansour told Lebanese radio that he did not support the idea of strikes on Syria, saying: "I don't think this action would serve peace, stability and security in the region."
Two bomb attacks which killed almost 60 people in Lebanon in August were linked to tensions over the Syrian conflict. The Lebanese Shia militant movement Hezbollah has openly taken part in combat in Syria on the side of the government, and there have been reports of some in the Sunni community fighting on the side of the rebels. In addition, the country is already playing host to the largest number of Syrian refugees of any country.
Jordan
Information Minister Mohammad Momani told the AFP news agency that Jordan would not be used as "a launch pad" for any military action against Syria.
"Jordan renews its calls for a political solution in Syria and urges the international community to intensify efforts to reach such a solution," he said. "Jordan's armed forces are capable of defending the country."
Senior military officials from Western and Middle Eastern countries have met in Jordan to discuss possible military intervention scenarios. Jordan is currently home to half a million Syrian refugees.
Iran
Iran has been Syria's main backer in the region since well before the current conflict and has been highly critical of any prospect of intervention.
It has warned a top UN official visiting Tehran of "serious consequences" of any military action.
Foreign ministry spokesman Abbas Araqchi also repeated claims that it was in fact rebels who used chemical weapons, AFP reports.
Iraq
Iraq has not been as critical of Syria as some other Arab countries and will also be concerned at the effect that any escalation in Syria could have on increasing sectarian violence.
"We have been against any military action, and we are hoping for a peaceful political solution to the crisis," said Ali al-Musawi, media adviser to Prime Minister Nuri al-Maliki.
Egypt
In June Egypt's then President Mohammed Morsi cut off relations with Syria and called for a no-fly zone.
However, after Mr Morsi was removed from office by the army, the new authorities have taken a more cautious stance. Egypt's interim Foreign Minister Nabil Fahmy has said that "there is no military solution to the Syrian crisis, and the solution must be a political solution".
Source: BBC News