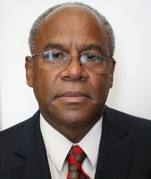 As Deputy Mayor, Mr. Cespedes guides the conceptualization, implementation, and coordination of Los Angeles Mayor Antonio Villaraigosa's comprehensive gang reduction and youth development initiative. During his tenure in the Mayor's Office, Mr. Cespedes has combined empirical data and program design principles to implement the "GRYD Model" throughout the areas of Los Angeles most impacted by gang related violence. These include: the Summer Night Lights Program, the Multi Generational Family Gang Prevention Program, and the Gang Intervention Incident Response and Case Management Program.
Mr. Cespedes came to the Mayor's Office in 2007 with over thirty years of experience working with socially and economically marginalized families in communities such as the Bronx, South Norwalk Connecticut, East Oakland California, and South Central Los Angeles.  He received a Master's Degree in Social Work from Columbia University in 1976 and completed post graduate studies in family systems theory and practice at Bronx State Hospital Family Studies Unit, Bristol Hospital in Connecticut, and the Nathan Ackerman Institute in New York City in 1978. He is a former professor of Social Work at Sacred Heart University in Connecticut and Adjunct Professor of Africana Studies at Cal State Dominguez in Los Angeles.
Deputy Mayor Cespedes is a Senior Policy Fellow at UCLA Graduate School of Social Policy, and has provided consultation and/or presentations to: The California Gang Prevention Network, the National Gang Center, The Office of Juvenile Justice and Delinquency Prevention (OJJDP) National Youth Forum, The US Conference of Mayors and The Institute of the Americas. He has provided briefings and technical assistance on violence reduction strategies to contractors, government officials and private sector collaborators in El Salvador, Guatemala and Honduras. In 2010, he made policy recommendations, while in service to California Attorney General Kamala Harris, as a member of the Transition Policy Team on Gangs.  He currently sits on the Advisory Group to the USAID Central America Regional Security Initiative (CARSI) Programs.
WEBSITE: www.mayor.lacity.org/PressRoom/LACITYP_006148