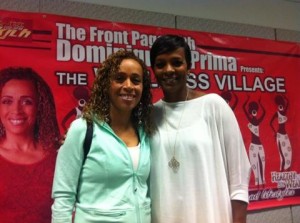 by
dominique DiPrima
April 27th 2013 was a good day for women in Los Angeles, and it was a great day for the sisterhood! While it would be easy to take the 13th Annual KJLH Women's Health Forum for granted as just another little community health fair, it would be a mistake to do so.
Much is made of how women supposedly don't get along and are in a state of perpetual competition and desperation. Leading that pack of stereotypes is the "angry Black woman." You'd think we were all in a "bad girls club" as seen on reality TV fighting over men and showing no respect for ourselves, or each other. It seems we are on the top of everybody's one-foot-in-the-grave lists from HIV to obesity. And we are rarely seen in the all-mighty general market (IE mainstream America) showing love, solidarity or even fondness for each other. Even our almost impossibly perfect First Lady, Michelle Obama is the subject of ridicule and scorn (she's too fit, too healthy, and too, um, Black…) In that crazy context an event that brings over 10,000 African American women together to celebrate, educate and fellowship with one another is more than a breath of fresh air. It's mouth-to-mouth resuscitation.
Those of you who know me, know that I don't do big crowds. I prefer kitchen table conversation, a coffee shop at most. But there is an intimacy to this gathering that defies it's being located in the Los Angeles Convention Center or having lines around the block. That closeness is camaraderie. It is that important, but rarely recognized factor known as the sisterhood (sistah-hood if you prefer.)
Laugh if you want, but this loving bond is saving lives and uplifting spirits in the realest way. And that was evident everywhere you looked at Saturday's event. Women hugged, and shared, and smiled at each other. We were truly happy to see one another. We welcomed each other. No rolled eyes, no ugly tweets, no tabloid emotional agenda was anywhere in sight. Ahhh! Girl, yes! Yes we can. Breathe it in, soak it up, pass it on.
The spirit of sisterhood was so strong that actress Vanessa Bell Calloway was moved by the moment. She was scheduled (her favorite word) as the keynote speaker for the Wellness Village, my alternative health pavilion inside the KJLH Women's Health Forum. But the star of Broadway, television and film had made it clear she did not want to speak about her personal story. I was fine with that, since I had no idea what her personal story was, and I am a fan of Ms. Bell Calloway. But when she took to the stage she made a different choice. In front of at least one thousand of her (new) closest friends Ms. Bell Calloway revealed that she is a breast cancer survivor. It is a secret she had held close since her mastectomy in 2009. A personal battle she had seen fit to keep from members of her own family even as she starred in hit shows like HawthoRNe, Cold Case & CSI became a plea to all of us. As Ms. Bell Calloway read from her book in progress, revealing the most painful details of her surgery and all that went with it in eye-opening detail, she urged all the women in the room to "schedule" time take care of ourselves while we're busy taking care of everybody else. She had the last laugh on the tabloids, artfully avoiding them for years, and then, telling her story, in her own time, choosing a stage where she could actually save lives.
And so it went all day long. Inside The Wellness Village Reflexologist Noluthando Williams moved and coaxed hundreds of women's bodies towards wellness, performing an incredible six and a half straight hours of free sessions. Dahabu Bellard and his team of massage therapists from Balance 4 Wellness worked non-stop too, introducing many people to their very first session of healing hands. Dr. Noel Ried, MD took blood pressure readings and offered Pilates and encouragement to all who would have it. Erich Nall AKA Coach "E," and his lovely family stretched, educated and uplifted the crowd with words, actions and by their living example. Adai Lamar added fun and glamour with her fashion show and Fitness Syndicate. Kevin Nash lifted us up in prayer. Cynthia Davis rolled out the red carpet to the brothers on hand with the introduction of "The Man Cave." African art purveyors Obinne Onyeador and Village Treasures filled The Wellness Village with breathtaking beauty from the Motherland creating a true oasis of holistic health.
The events' mastermind Lauretta Roberts, along with Angela Hoffman, Drew Dorsey, Brenda Caddell, and many, many more women behind the scenes worked their butts off for no other reason than to uplift their sistahs. Even radio mucky-mucks Station Managers Karen Slade and Bonita Robinson were running around doing everything from dispensing water to directing executive diplomatic missions. It was a collective effort for community good. And the women, thousands and thousands of women appreciated it and each other. That, my friends, is the sistah-hood. It is not extinct or endangered. It is not unusual or impossible. Just because it is not in the Fall television line up or trending on social media, doesn't mean it does not exist. It is alive and well. And it up to us to keep it that way!