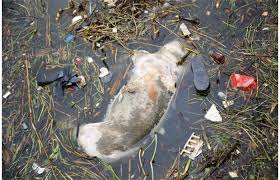 Hong Kong (CNN) — 5,916 dead, bloated pigs and counting.
Chinese officials say they expect to find more carcasses floating in the river that flows through the center of Shanghai — but they insist the city's water is fine.
The claim had incredulous residents one-upping each another with one-liners on the country's popular microblog service, Sina Weibo.
"Since when is finding dead rotting pigs in a major river not a public health problem?" Weibo user, @Muyunsanjun2011, asked.
Read Full Story: CNN