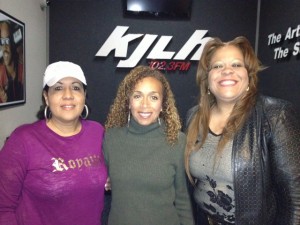 DEBRA MARS (left), Author, Motivational Speaker, Entrepreneur, she is a former corporate marketing executive (General Mills, Coca-Cola, Frito-Lay) and current CEO of "Gifted by dezyn", Founder of Women in the Game; a mentoring organization that seeks to put the power back in the purse for women who have fallen victim to: divorce, domestic violence, job displacement and/or catastrophic illness. A single parent for 14 years, D.L. Mars is no stranger to adversity and life altering events. Based on hundreds of interviews, her newly released book "Death of a Fairy Tale" was an eight year passion project that promises to be a megaphone and coach for all women who like her seek to triumph over a doomed marriage.
Website: www.giftedbydezyn.com

DR. TRACY SHAW (right), is the Assistant Director and Training Coordinator of the Post-Doctoral Fellowship Program at Loyola Marymount University's Student Psychological Services. She is also a licensed psychologist in the state of California. Dr. Shaw received her Masters and Ph.D. in Counseling Psychology with a minor in substance abuse and sport psychology from Southern Illinois University at Carbondale in 1986 and 1988 respectively. Dr. Shaw, among her many areas of expertise, has created a specialization in the field of sport psychology. She is a sport psychologist with the Unites States Track and Field Federation and the United States Figure Skating Association.
Website: www.drtracyshaw.com