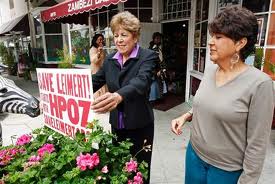 JACKIE RYAN, Co-Owner of Zambezi Bazaar in Leimert Park is the perfect little shop when you're looking for those items to give you an Afro-centric feeling. Whether it is books, pillows, hand woven throws, magnets, or figurines, Zambezi Bazaar will have exactly what you are looking for.
Zambezi Bazaar is located at:
4334 Degnan Blvd., Los Angeles, Ca, 90008. Phone# 323-299-6383.