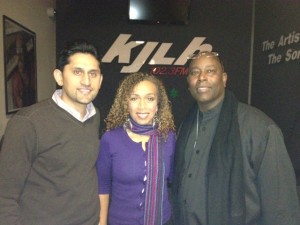 ABEID UZOMA (right), Electrical, Mechanical & Studio Engineer, Director of "Ka Media Production Group", Audio/Video Technical Director for KRST UNITY CENTER of AFRAKAN SPIRITUAL SCIENCE, Creator, Director & Producer of "Family Video Diaries" and "Front Page Video Zarr". Abeid is a creative and artistic activist and has been involved in music & video production for the past 20 years.  He worked directly with Stevie Wonder, the Wispers and many other renowned and popular artists. He has created and produced many of his own audio & video projects and uses his craft in ways that benefit and contribute to the wellbeing of the community.
Website: www.kamediagroup.com or Phone# 323-759-7567
Email: kamediagroup@hotmail.com
DR. ASHISH R. PAREKH M.D. (left), Board Certified Urologist at Kaiser Permanente Urology, who graduated from Albany Medical College. He is recipient of the SLS Outstanding Laparoendoscopic Residents, and The Earl F. Nation Resident Scholarship Recipeient (Western Section AUA).  Even more, earned "The Thomas Byrd Award"  the highest achievement in general surgery, from Albany Medical College in May, 2000.
Website:www.kp.org or Phone# 323-857-2371
Email:parekhar@hotmail.com or