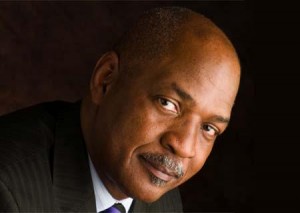 Charles Ogletree, the Harvard Law School Jesse Climenko Professor of Law, and Founding and Executive Director of the Charles Hamilton Houston Institute for Race and Justice, is a prominent legal theorist who has earned an international reputation by taking a hard look at complex issues of law and by working to secure the rights guaranteed by the Constitution for everyone equally under the law. He has examined these issues not only in the classroom, on the Internet, and in the pages of prestigious law journals, but also in the everyday world of the public defender in the courtroom and in public television forums where these issues can be dramatically revealed. He furthers dialogue by insisting that the justice system protect rights guaranteed to those citizens by law.
Ogletree is the Founding and Executive Director of Harvard Law School's new Charles Hamilton Houston Institute for Race & Justice, named in honor of the visionary lawyer who spearheaded the litigation in Brown v. Board of Education that focuses on a variety of issues relating to race and justice.
His most recent book is The Presumption of Guilt: The Arrest of Henry Louis Gates, Jr. and Race, Class and Crime in America, which draws on the 2009 mistaken arrest of Gates to explore issues of race and what must be done to create a more just legal system. Ogletree's other titles include When Law Fails, which contains ten original essays; From Lynch Mobs to the Killing State: Race and the Death Penalty in America, which he co-edited with Professor Austin Sarat of Amherst College; Brown at 50: The Unfinished Legacy, which he co-authored with Professor Deborah Rhode of Stanford University to commemorate the 50th anniversary of Brown v. Board of Education; and All Deliberate Speed: Reflections on the First Half-Century of Brown v. Board of Education, his historical memoir that has received enthusiastically favorable reviews from many distinguished scholars, including Skip Gates, David Levering Lewis, Alan Dershowitz, John Hope Franklin, and Anita Hill.
Ogletree has served as Faculty Director, Associate Dean and Vice Dean of the Harvard Law School Clinical Program. He holds honorary doctorates of law from North Carolina Central University, New England School of Law, Tougaloo College, Amherst College, Wilberforce University, and the University of Miami School of Law.
In 2006 and again in 2007, Ogletree was named by Ebony Magazine as one of the 100 Most Influential Black Americans. He was presented with the Lifetime Achievement Award when he was inducted into the Hall of Fame for the National Black Law Students Association, where he served as National President from 1977-1978. Professor Ogletree also received the first ever Rosa Parks Civil Rights Award, given by the City of Boston and Morehouse College's Gandhi, King, Ikeda Community Builders Prize. The Asian American Legal Defense & Education Fund honored him with the Justice in Action Award, and the Massachusetts Women's Political Caucus presented him with their "Good Guys" Award.
He is the co-author of the award-winning book, Beyond the Rodney King Story: An Investigation of Police Conduct in Minority Communities, and he frequently contributes to many journals and law reviews. He has written chapters in several books, including "If You Buy the Hat, He Will Come," in Faith of Our Fathers: African American Men Reflect on Fatherhood and "The Tireless Warrior for Racial Justice," which appears in Reason & Passion: Justice Brennan's Enduring Influence. His commentaries have appeared in the editorial pages of The New York Times, The Los Angeles Times, and The Boston Globe, among other newspapers. His commentary on how to make Black America better was published in Lift Every Voice and Sing and he has also contributed a chapter "The Rehnquist Revolution in Criminal Procedure" for The Rehnquist Court: Judicial Activism on the Right.
Ogletree also serves as the Co-Chair of the Reparations Coordinating Committee, a group of lawyers and other experts researching a lawsuit based upon a claim of reparations for descendants of African slaves, along with Randall Robinson, author of The Debt: What America Owes to Blacks.
In addition to his strong academic focus, Ogletree's national media experience and exposure is considerable in its scope. He moderated the nationally-televised forums, State of the Black Union and Where Do We Go From Here: Chaos or Community and also as the moderator of four the seminal ten-part series, Ethics in America on PBS. Since 1990, he has moderated dozens of programs, including Hard Drugs, Hard Choices, Liberty & Limits: Whose Law, Whose Order? and Credibility in the Newsroom. He has also appeared as a guest commentator on Nightline, This Week with David Brinkley, McNeil-Lehrer News Hour, Crossfire, The Today Show, Good Morning America, Larry King Live, Cochran & Company, Burden of Proof, and Meet the Press as well as other national and local television and radio programs. He served as NBC legal commentator on the O.J. Simpson case.
In 2005, Ogletree was honored with the Dr. Martin Luther King, Jr. Legacy Award for National Service, and presented with the Morehouse College Candle in the Dark Award in Education and Law. He also received the City University of New York Public Interest Law Association Lifetime Achievement Award in Public Interest Law. In 2004, the Clio Exchange presented him with the Carter G. Woodson History Maker Living Legend Award. He received the A. Leon Higginbotham Lawyer of the Year Award from the National Bar Association Young Lawyers Division. In 2003, he was selected by Savoy Magazine as one of the 100 Most Influential Blacks in America, and by Black Enterprise Magazine, along with Thurgood Marshall, A. Leon Higginbotham, Jr., and Constance Baker Motley, as "one of the legal legends among America's top black lawyers." In 2002, he received the National Bar Association's prestigious Equal Justice Award. In 2001, he joined a list of distinguished jurists, including former Supreme Court Justices Thurgood Marshall and William Brennan, and civil rights lawyers Elaine Jones and Oliver Hill, when he received the prestigious Charles Hamilton Houston Medallion of Merit from the Washington Bar Association.
Ogletree earned an MA and BA (with distinction) in Political Science from Stanford University, where he was Phi Beta Kappa. He also holds a JD from Harvard Law School where he served as Special Projects Editor of the Harvard Civil Rights – Civil Liberties Law Review.
Website: www.charleshamiltonhouston.org