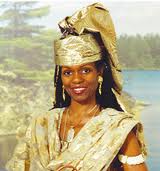 Queen Afua is an internationally renowned best selling author, holistic wellness entrepreneur, and highly sought after natural health practitioner. She is committed to informing and inspiring global wellness through practice, products, and teaching. With a surplus of 35years experience, Queen Afua has built a wellness empire that includes The Queen Afua Wellness Institute, The City of Wellness Society, and her signature Heal Thyself and Sacred Spirit product lines. She has published four critically acclaimed books: Heal Thyself, Sacred Woman, City of Wellness, and Overcoming An Angry Vagina.Queen Afua is the choreographer and creative architect of the Womb Yoga Dance as well as the director and actress of the Overcoming An Angry Vagina stage production.
Born and raised in Brooklyn, NY Queen Afua was an early wellness advocate for healthy organic vegan lifestyle and holistic approaches for achieving wellness. At the young age of 17, she took bold steps to begin treating her chronic asthma, arthritis, and with natural alternative methods and thereby discovered her life calling. Over the next 2 decades she immersed herself in the art of learning to use food and nature as healing elements becoming a certified colon therapist, fasting specialist, Hatha yoga instructor, and lay midwife.
Queen Afua has lectured globally and served as an expert consultant to numerous institutions and publications including Long Island University Medical Center, NASA, NYC Downstate Medical Center, and Omega Institute.Her work has impacted millions of people around the globe since the early 1970's with a client base that ranges across the United States and as far reaching as Africa, London, Australia , Canada , and the Virgin Islands..Her signature products, programs, and trainings are highly revered by naturopath colleagues and medical doctors alike as being at the forefront of wellness and self-care. Queen Afuas 21 Day and 12week programs and Heal Thyself products have been clinically tested with unanimously high success rates by Dr. Bernadette Sheridan. Dr. Bernadette Sheridan , a Family Practitioner for over 30 years, Director of Grace Family Practice , has partnered with Queen Afua and has successfully clinically tested Queen Afua's 21 day , 12 week program and products.
Website: www.queenafua.com Phone# 718-221-4325