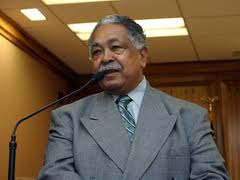 FUNERAL SERVICES ANNOUNCED FOR
CALIFORNIA'S FIRST BLACK LT. GOVERNOR
MERVYN M. DYMALLY
Memorial Fund Established
To Honor Groundbreaking Lawmaker
WHAT:
Funeral services and viewing for Mervyn M. Dymally
WHEN:
Wednesday, October 17, 2012
Viewing between 9AM – 12:00PM
Funeral service at 12:30PM
WHERE:
Holy Cross Mortuary
5835 West Slauson Avenue
Culver City, CA
Click here for driving directions
Los Angeles, CA – Funeral services for the late Mervyn M. Dymally, affectionately referred to as the "Godfather of African-American politics" in California, will be held on Wednesday, October 17 at 12:30 p.m. at Holy Cross Mortuary 5835 West Slauson Avenue in Culver City, Calif.  The service will be preceded by a viewing from 9 a.m. to 12 noon at the same location.
The groundbreaking lawmaker whose career included serving in the California State Assembly, California State Senate, as the 41st Lieutenant Governor of California, and in the U.S. House of Representatives passed away Sunday, October 7 in Los Angeles from declining health.  He was 86.  Dymally is survived by his daughter Lynn and son Mark, as well as his wife Alice Gueno Dymally, and three sisters.
At the request of the Dymally family, the Mervyn M. Dymally Memorial Fund has been established to honor the life, career, and legacy of the groundbreaking lawmaker and is available online at: https://www.wepay.com/donations/dymallymemorialfund.
"Please join us as we celebrate the life and legacy of Mervyn Dymally by making a donation of the Mervyn M. Dymally Memorial Fund," said Dymally's longtime press secretary Jasmyne Cannick and family spokesperson.  "Mr. Dymally's family asks that in lieu of cards, flowers, and gifts, that you consider making a donation in his name to help further champion the causes and organizations that he so passionately cared about—health and education."
The memorial fund is being administered by Mr.Dymally's wife Alice and former chief-of-staff Dr. Kenneth Orduna.
Note to media:Media wishing to cover this event should contact Jasmyne Cannick at (323) 839-0216 or via email in advance at jcannick@me.com for approval.