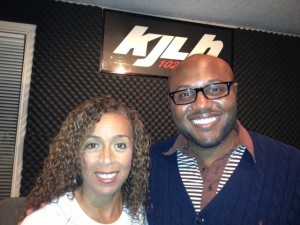 Nii-Quartelai Quartey (right)
A discussion of the importance and the need of volunteer work in helping to persuade people to get to the polls to vote.
Nii-Quartelai Quartey (Nee-Quartalie Quartaa) will discuss the need and the importance of volunteer help at the Barak Obama campaign offices to persuade people to get out to the polls and vote.
He serves as an Official California Surrogate for the Barack Obama Re-Election Campaign, Political Vice-President of Stonewall Democratic Club, Victory Fund Campaign Board Member, Los Angeles Gay & Lesbian Chamber of Commerce Board Member, and Liberty Hill Foundation Community Funding Board Member.
In addition, he hosts a politics and pop culture internet radio show called, "People Are Talking"  Sunday's at 10 AM on LATalkLive.com. The show offers listeners fresh perspectives on the political headlines of the week, the latest pop culture buzz, and an opportunity to meet local change makers making a difference.
Nii-Quartelai has a Bachelor of Arts Degree in Political Science with a Minor Degree in Critical Approaches to Leadership from the University of Southern California. He holds a Masters Degree in Social Entrepreneurship & Change from Pepperdine University.
Nii-Quartelai Quartey, M.A.
Principal Consultant / CEO
Campaign Office:
5444 S. Crenshaw ave. Los Angeles, CA
820 E. Avenue K Lancaster, CA
Web: www.barackobama.com
The Sankofa Group of Civic Engagement
Office:  213.995.3930
Mobile: 925.698.4373
quartey@thesankofagroup.net
www.thesankofagroup.net