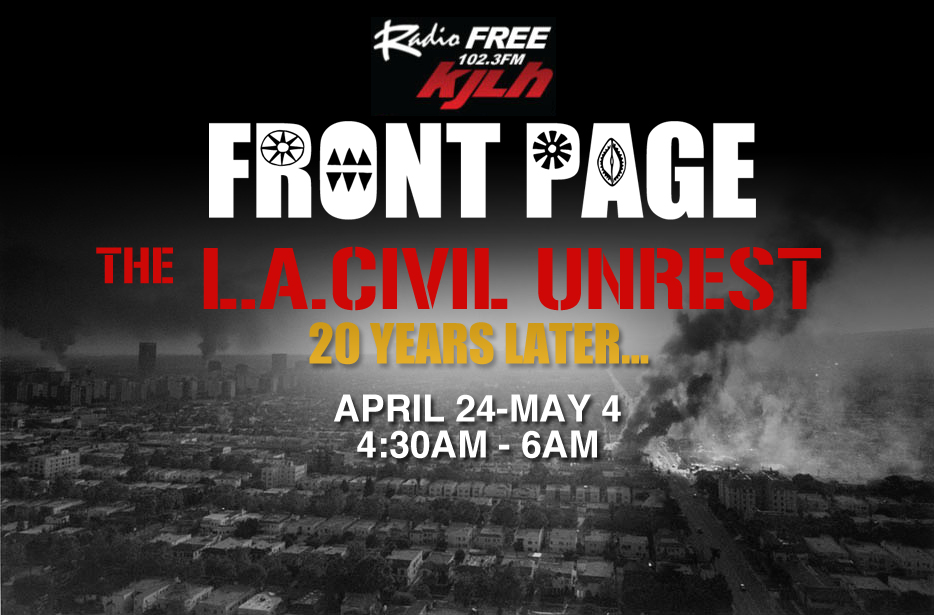 Continuing its coverage and commemoration of the 1992 civil unrest, in an unprecedented conversation, Rodney King joined the Front Page show and hosts Dominique DiPrima and Carl Nelson on Monday, April 30 at KJLH-FM.
BEATING INCIDENT BY LAPD
King, an African-American, gained national attention when amateur cameraman George Holliday captured video of four white Los Angeles police officers clubbing and kicking him. The incident followed a high-speed car chase on March 3, 1991.
The officers — Laurence Powell, Timothy Wind, Theodore Briseno, and Stacey Koon — were charged with criminal offenses, including assault with a deadly weapon. Their trial was originally set to be held in Los Angeles, but defense attorneys successfully argued that a fair trial in L.A. would be impossible because of the publicity.
The trial was moved to Simi Valley, a predominantly white suburb of L.A. The jury was comprised of ten white people, one Hispanic person, and one Asian person, and many people objected to the fact that there were no African Americans on the jury.
ACQUITTAL AND RESULTING RIOTS
The officers' acquittal in April 1992 triggered riots in South Central, Los Angeles. More than fifty people were killed and more than 2,000 were injured. 9,500 were arrested for rioting, looting, and arson.
The United States Department of Justice filed federal civil rights charges against the four officers, and in August of 1992 two of them were found guilty while the other two were acquitted.
King was eventually awarded $3.8 million in a civil trial for the injuries he sustained.
The riots and police response to it resulted in the resignation of Police Chief Darryl Gates, thought by many minorities to symbolize institutionalized racial intolerance. He was replaced by a black chief, Willie Williams, who introduced several changes suggested by an independent commission that investigated the riots.
Rodney Glen King, born April 2, 1965 in Fort Worth, Texas, has reportedly had several brushes with the law over the years.
In 2004, he pleaded guilty to driving under the influence of the drug PCP after he lost control of his SUV in 2003 and slammed into a power pole in Rialto. And in 2005, he was arrested on suspicion of domestic violence.
BOOK SIGNING
He will be holding a Q & A session, as well as signing his new book, "The Riot Within: My Journey from Rebellion to Redemption" tonight, Monday April 30th, 7pm, at:
Eso Won Bookstore
4327 Degnan Blvd. LA.90008
(323) 290-1048