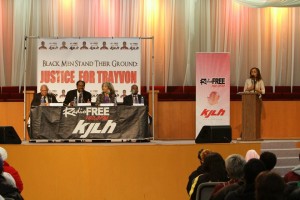 20 Years Later…It's Time to Update Both Our Slogans and Our Strategy
by dominique DiPrima
It's been a dizzyingly busy cycle America, in Black America, in South Central Los Angeles. The killing of Trayvon Martin has reawakened the activism of many who have long fought injustice in various ways. It has opened the eyes of many for the first time, as they saw their own sons, brothers, cousins or friends in the youthful sweetness of Trayvon's eyes peering out from behind his hoodie. I believe people of many cultures, classes, ethnicities and regions bonded with young Trayvon before the smear campaigns and spin doctors kicked into gear. And thus they took the journey with Black America, gasping "Why?" and "How could they?" "It's not fair!" "It doesn't add up," right along with us.
In every state, county and town people began to examine or reexamine their local tragedies and put the magnifying glass on similar injustices.
Here is Los Angeles many have mourned the death of 19-year-old Kendrec McDade, the Citrus College student killed by Pasadena Police on March 24th. And although the 9-1-1 caller was arrested for lying (and later released) there is still no word on discipline for the officers involved, and there are questions about the investigation.
Although he was not a teenager, nor killed by an authority figure, the case of Anthony Dunn has riled community passions, because there has been no arrest. And the unlicensed driver who killed the young African American postal worker is facing only traffic court.
As we prepare for the 20th Anniversary of Los Angeles civil unrest, every neighborhood takes inventory of it's fallen, it's history and it's progress. Every community mourns it's own Devon Browns, Suzie Penas or Trayvon Martins.
At some recent rallies and events in support of Trayvon Martin the chant "No Justice, No Peace" has been heard once again. The intensity is in the air – on the radio, in the streets, in the water cooler conversation. The marches, the rallies, the constant pressure on media and politicians are a good thing. We probably would not have seen the arrest of George Zimmerman, let alone 2nd degree murder charges if it were not for that activism. But here in Los Angeles, and I believe nationwide, if we don't turn that passion into constructive activism and concrete action, it's gonna be a long, hot summer! We cannot afford to sacrifice the Trayvons who are still with us to reckless violence, unfocused anger or the weakness of despair! If we think deeply on it, we know that when we do that our young people turn on themselves and each other. Fueling them with random fire is not leadership.
Maybe it is time to update our slogan and our strategy. I propose something along the lines of "Peace Without Retreat!" It means our armies are ready to march. We are lawyered up, researched and ready to go. Our politicians have been put on notice. Our boycotts are fully loaded. And we go on about the business of reelecting our president…and taking care of our communities and the young people who are still living…while keeping a watchful eye and constant pressure on each and every one of these cases.
What happens if Zimmerman is acquitted? What happens if young Kendrec's shooters are never brought to justice? What happens if City Attorney Carmen Trutanich lets Anthony Dunn's killer go with a slap on the wrist? Then we march again! And we take legal action. And pressure our politicians (Trutanich is running for District Attorney.)
Meanwhile let's use wisdom. Work steadily to overturn stand your ground laws nationwide. Mentor young people or support those who do. Fight voter suppression laws. Turn out the vote. Let's celebrate the incredible genius and beauty of the young people in our communities. And let's protect them and fight for them all at once…It's time for Peace Without Retreat!