Wednesday, April 11, 2012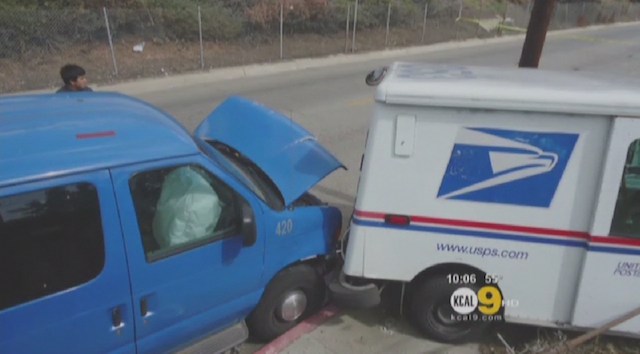 LISTEN TO AUDIO
Anthony Dunn, a resident of Compton, 31, was struck and killed when a driver rear-ended his U.S. Postal Service van while he was on the job in Boyle Heights.
Dunn died after both of his legs were severed.
The Los Angeles County district attorney's office determined that motorist Felipe Soto, 59, had not been operating his vehicle negligently Feb. 27 when he reportedly fell asleep and hit Dunn.
Dunn was pinned between the car and his truck, which was parked in the 1100 block of Prado Street.
Soto was operating his car with a revoked license but was not taken into custody, according to the Los Angeles Police Department.
In reviewing the case, the district attorney's office found that Soto was not speeding or driving under the influence.
Soto has been charged with and will be arraigned April 20 on one misdemeanor count each of vehicular manslaughter, of driving with a suspended license, of driving without a valid license and with an infraction of failure to provide proof of insurance—in traffic court.
Betty Pleasant of the Wave Newspaper who has been following Dunn's story wrote last week that Deputy District Attorney Bobby Grace said: My understanding of the incident was that Felipe Soto was an unlicensed driver who killed Mr. Dunn. … I would hope that our office would have looked hard at a charge of at least involuntary manslaughter based on negligent driving.
More Reading
Bottom Line: On the omnibus, picking up where stories left off
Los Angeles Wave Newspapers – Mar 28, 2012
Accident that killed postal worker referred to LA city attorney
Los Angeles Times – ‎Mar 15, 2012‎
Bottom Line: Quest for justice after Black postman is killed in East LA
Los Angeles Wave Newspapers – ‎Mar 14, 2012‎
Contact Information:
Walter Mosley
Mosley, Engelman & Jones, LLP
Attorney for the Dunn Family
9595 Wilshire, Suite 900
Beverly Hills, CA 90212
Phone: (310) 424-5889
Email: info@mejlawfirm.com
Web: http://www.mejlawfirm.com
Carmen Trutanich
Los Angeles City Attorney's Office
Phone: (213) 978-8100
Fax: (213) 978-8312
Web: www.atty.lacity.org or
Carmen Trutanich for District Attorney www.carmentrutanich.com/