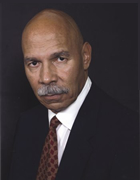 RANDALL ROBINSON, is the author of MAKEDA, An Unbroken Agony and the national best sellers The Debt, The Reckoning, Quitting America, and Defending the Spirit, as well as the novel The Emancipation of Wakefield Clay. He is a professor of law at Penn State Law School and is the creator, co-producer, and host of the public television human rights series World on Trial. Robinson lives with his wife Hazel in St. Kitts, West Indies.
Randall Robinson (born 1941) is an internationally recognized author and foreign policy activist. In 1977, he founded TransAfrica–a lobbying group dedicated to promoting "enlightened and progressive" U.S. foreign policy toward countries in Africa and the Caribbean. As president of TransAfrica, Robinson led the U.S. campaign to bring democracy to South Africa, putting an end to that county's apartheid policies.
Beginnings
Randall Robinson, the son of Maxie Robinson and his wife Doris, was born on July 6, 1941, in Richmond, Virginia. He spent the first 15 years of his life in a ground-floor flat in the African American section of Richmond. Maxie Robinson taught history by day and coached athletics in the evening, while Doris was a full-time homemaker. Robinson's parents were both college graduates. 26-year-old Maxie Robinson and 18-year-old Doris Jones had met in Richmond, Virginia, at Virginia Union University. Doris was attending the school as preparation for a teaching career.
WEBSITE: