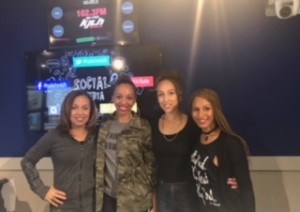 Sabra Marie is a writer and creator of the new series "Adulting". She is a graduate of Spelman College, where she met actress Christina Ford, her fellow co-producer of the show. Sabra is a member of SAG/AFTRA and a recognized photographer and creative consultant in LA.
Jaszmin Kuhner is an up and coming director who graduated from Purdue University in Indiana. Her credits include working on Shows including Judge Mathis, Basketball Wives, America's Got Talent and Master Chef Jr.
Christina Ford is an actress, producer and a graduate of Spelman College where she met colleague & friend Sabra Marie Her credits include Indie Flim Project to show on Nickelodeon and Disney.
To watch "Adulting" visit: www.youtube.com/c/adultingtvshow
To follow on social media
Instagram: @adultingtvshow
Twitter:@adulting_tvshow
Facebook: AdultingTVShow