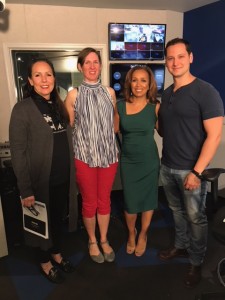 Sheri Foster
Is a Native American Cherokee actress from Texas. Her theatre experiences include The Independence of Eddie Rose, Death of a Miner, God of Vengeance, and touring with the Native American Theater group Mystic Voices. Her film work includes U-Turn (for which she was honored with a Best Supporting Actress Award from First Americans in the Arts), Naturally Native, Secondhand Heart, and Shouting Secrets. TV credits include House, Crazy Horse, Coyote Waits, and Unbreakable Kimmy Schmidt Sherri is the 1st American Indian woman to be considered for an Emmy.
(http://www.imdb.com/name/nm0288046/)
Ashley Sparks
She is a freelance southern theatre maker, engagement strategist, facilitator, curator, and producer. I have worked across the US and gracefully switched hats depending on the job, cause, or client. Cities like New Orleans, Wilmington, Stuarts Draft, Milton, and Baltimore have pieces of my heart.
As a theater maker I've worked nationally with companies such as Cornerstone Theater Company in Los Angeles, ArtSpot Productions in New Orleans, and PearlDamour. As a director I prefer making site-specific devised work and participatory events that may involve line dancing or gospel singing. Or other things that instigate giggling and joy.
http://www.ashleyasparks.com/as-an-artist/
Matt McGorry
Showcasing his talent, charm, wit and passion, Matt McGorry has solidified his spot in Hollywood as one of the industry's hottest actors. He was recently chosen by Forbes Magazine as one of Hollywood's "Forbes 30 Under 30 2016."
Currently starring on ABC's hit series How to Get Away with Murder, McGorry portray 'know-itall' law student "Asher Millstone." The show has a strong cult following as it holds a coveted spot among Shonda Rhimes' TGIT lineup. The Emmy Award winning show is currently in its second season, garnering critical acclaim and holding steady in ratings.
Event
Voices of a Peoples History of the United States
This performance features readings from 'Voices of a Peoples History of the United States,' a companion performance to historian Howard Zinns legendary book "A Peoples History of the United States."  The play includes selected testimonies, speeches, letters, poems, petitions, and manifestos of people throughout U.S. history who struggled against slavery, racism, war, and oppression.
Local social justice activists and celebrities will read these historical texts giving voice to the struggles for justice and liberation that are still relevant today. This evening's event brings together a multiracial community committed to acting in solidarity with Black Lives Matter. Performers include Matt McGorry and Melina Abdullah.
For Ticket Info: http://peopleshistory.brownpapertickets.com/