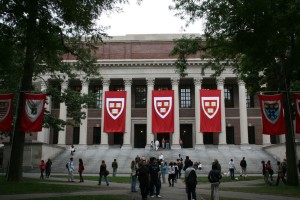 Harvard College's admitted freshmen last year became the first class in the school's multi-century history comprised of mostly nonwhite students.
And again, for the second year in a row, the majority of students invited to attend the prestigious college this year identify as ethnic minorities.
Of the 2,056 students accepted for the class of 2021, 50.8% do not identify as white. Of the admitted students, 22.2% are Asian-American, 14.6% are African-American, 11.6 are Latino, 1.9% are Native Americans, and Native Hawaiians are 0.5%. First-generation students make up 15.1% of the admitted class.
Neither this year's class nor last year's made many headlines when the college initially released the data. But with the Department of Justice now investigating a discrimination complaint against the school, Harvard and its diverse array of students have been thrust into the national spotlight.