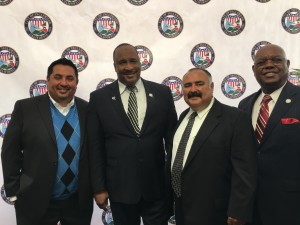 Inglewood Mayor James Butts was first elected mayor of Inglewood in 2010 and then re-elected in 2014 with an 84% vote.
Mayor Butts has a combined 39 years in public safety, municipal government and education. He holds a Bachelor of Science (California State University at Los Angeles) and a Masters Degree in Business Administration (California Polytechnic University at Pomona). Mayor Butts has served as a general manager or assistant general manager of large and complex municipal organizations for the past 27 years.
Thursday Inglewood Mayor James Butts and members of the City Council unanimously approved an exclusive negotiating agreement (ENA) between the City of Inglewood and the L.A. Clippers. The ENA will start a process through which both parties will pursue the development of a state-of-the-art NBA basketball arena in the city of Inglewood. The facility would be located on a 20-acre parcel located south of Century Boulevard at Prairie Avenue.  The Los Angeles Clippers will pay all the costs to plan, entitle and develop the proposed facility. Upon signing the ENA, the Los Angeles Clippers paid the City of Inglewood $1.5 million, which will fund the City's administrative costs. If additional funding is required, the Clippers will provide the necessary resources. The new arena would be 100 percent privately funded and privately capitalized. No public dollars will be used for this project.